Sponsored Listings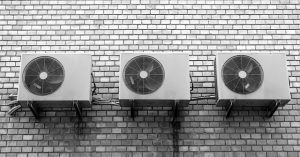 The HVAC (heating, air-conditioning, and refrigeration) industry is rapidly growing.
New technologies find their way in every day.
And that means more innovations in heating and cooling systems.
A random person won't be able to install and set up a new state-of-the-art refrigeration system on their own.
A random person can't install trendy machinery at a factory.
In this case, an HVAC technician will be required.
While new climate-control systems are entering the market, there will always be the need for the HVAC experts to handle them.
Besides, new technology can have different flaws that HVAC techs will need to troubleshoot.
Everyone has at least once experienced a broken tech.
HVAC technicians are here to save the day handling the residential, commercial, and industrial HVAC issues every day.
Even if there's a crisis on the market, the HVAC techs are always in demand.
Appliances and climate control systems are used constantly and may need maintenance or repair at any moment.
At the moment, the demand for HVAC technicians is high.
This implies more job openings and higher wages.
Based on the data of the United States Bureau of Labor Statistics, the HVAC industry is developing more rapidly than all the other areas.
The employment rate in other industries across the US is only 12%.
HVAC industry opportunities grew by 28% between 2008 and 2018.
That created 86,600 job openings.
While other industries may be in decline, there's no such problem for the HVAC pros.
A great addition to the high demand for HVAC tech is the level of payment.
With only half a year of training, you can aim at starting a new career in the HVAC area.
That's a minimum.
Additionally, you can undertake an apprenticeship program to earn 3 to 5 years of paid experience.
Apprenticeships are available via Air-Conditioning Contractors of America, or Sheet Metal Workers' International Association, or Mechanical Contractors Association of America.
Other organizations also offer apprenticeship programs.
They are the National Association of Home Builders and Associated Builders and Contractors.
So, you can get prompt theoretical and practical training in the field.
Also, you can earn experience and on-the-job training.
In both cases, it's a good start or the HVAC career path.
According to the U.S. Labor of Bureau Statistics, the median payment of HVAC technicians ranges between $14.94 and $24.84 hourly.
More experienced techs (which comprise the 10% of the industry) make as much as $30.58 per hour.
According to Indeed.com though, the average salary of the HVAC technician is $43,000 annually.
With the basic qualification, this is a very good salary for the entry-level techs.
The salaries of different HVAC experts vary based on a specialty.
Thus, according to Indeed.com, HVAC controls tech and commercial HVAC service tech can earn $52,000 annually.
The income of the HVAC refrigeration technician can come up to $45,000 per year.
That's a pretty good living.
So, with the rapidly growing industry, high salary, and an easy way to start, it's a smart move to enroll in the HVAC industry.
If you're asking whether an HVAC tech makes good money, the answer is positive.
Sponsored Listings