Sponsored Listings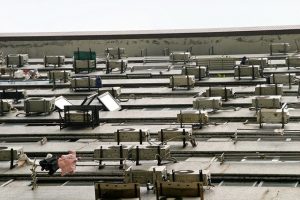 The tasks of an HVAC tech, a plumber, and an electrician can overlap and it can get overwhelming.
You might be wondering which career is a better path to take.
The salary, career growth, job satisfaction, and other factors can have a huge impact on your decision.
By obtaining certification and gaining work experience, an HVAC tech has extended job opportunities.
However, it is important to research and understand the scope of work and licensing process.
Potential salary and stress you can face at each of these positions can also have a great influence on your decision.
In this article, we will review the careers of an HVAC tech, a plumber, and an electrician.
With the information that you will get, you can make a thoughtful decision.
Based on the set of skills you possess, you can choose which career will help you grow and fully open your potential.
There's more to take into consideration than just salary.
Sponsored Listings
Education and Licensing
To join the area of all three professions, you will need a high school diploma or GED and practical on-the-job experience.
The experience can be gained through an apprenticeship program.
The disciplines required for the examination differ greatly though.
When it comes to gaining proficiency, the details matter considerably.
Areas of Education
The main focus of electricians is on the subjects related to electrical theories and practices:
Electrical concepts.
Connecting circuits.
Residential and commercial wiring.
Installing fuse boxes.
Reading blueprints.
Plumbers focus of the subjects such as:
Water, air, and steam concepts.
Installing and testing the plumbing.
Drain and waste systems.
Plumbing codes.
Some of the subjects that plumbers, electricians, and HVAC techs study can overlap:
Electrical concepts.
Heating.
Air conditioning.
Ductwork systems.
Soldering, welding, and metal fabrication.
Reading blueprints.
Education and Apprenticeship Timing
All three professions require a year or less to obtain a certificate.
However, the HVAC technician training can take more time than an electrician or plumber.
The reason for this is that the HVAC tech should additionally study the fundamentals of plumbing and electrical areas.
The apprenticeship program of an electrician and a plumber can last up to five years.
The HVAC tech apprenticeship, on the other hand, can be less depending on the state.
In some states, the apprenticeship program isn't required at all for obtaining licensure.
Enrolling in an apprenticeship program in the plumbing area can be challenging.
On the contrary, electricians and HVAC techs can find multiple attractive options to gain paid experience.
Sometimes it can be hard to enroll with an apprenticeship in all three fields.
It can depend on the connections you gained in the industry.
Your location can also play a role in getting such a program.
License and Certification
A license can be required for all three professions.
Mostly, the license is issued at a state level.
Besides, HVAC technicians must gain an EPA Section 608 Certificate.
It's an obligatory certification that authorizes them to work with refrigerants sticking to the safety protocols.
Among the tree professions, electricians are regulated the most regarding obtaining a license.
In some regions, HVAC technicians can perform some electrical tasks when connecting equipment.
Other states or municipalities require an electrician to do it.
Alternatively, the HVAC tech can obtain an electrical license.
The level of expertise in the three professions is divided into an apprentice, journey-person, and master.
In some states, all three levels are used, in others, only two.
The level of a master can be equivalent to a contractor.
Practical Training, Classwork and Supplementary Education Hours
Electricians and plumbers need to obtain four to five years of classwork and practical training.
HVAC techs though, need to have 18 months of classwork minimum together with two to five years of on-the-job training.
The timing can vary from state to state.
In some states, supplementary education hours are required to renew the license.
Overlapping Responsibilities
When it comes to obtaining a license, the overlapping responsibilities can be a positive factor.
If you have spent multiple years for an electrician or plumber apprenticeship and decided to change your career, you'd need to put just a little effort to enter the HVAC area.
An electrician regularly deals with the installation, maintenance, and repair of electrical systems.
The pros involved in the construction should be able to read blueprints.
They will be responsible for installing circuits, wiring, and safety switches in the new buildings.
Plumbers mainly deal with the installation, maintenance, and repair of piping systems.
Qualified plumbers can design pipe installations for utility companies, new construction projects, and homeowners.
They also provide the installation and repair services of bathtubs, showers, sinks, toilets, water heaters, etc.
HVAC technicians, on the other hand, don't concentrate on only one specialty.
There are some plumbing and electrical tasks involved.
Also, everything is about climate control.
Sometimes, HVAC technicians can choose to deal only with one or some of the aspects, e.g., only installations or maintenance and repair.
With all three professions, it's a wise idea to attend some business schools in the process.
It can help you move up your career ladder and take a supervisory or management position.
Also, it can be a huge asset if you decide to launch your own business and become a contractor.
The Mess and Stress
Below, we're going to talk a little about the work environment of all three areas and what you can encounter:
The Work of a Plumber
If you like to work independently, the plumber's work is a good option for you as there are more possibilities to work in your own way.
As a plumber, you will work a lot in dark and damp places.
You can encounter some mess at particular work sites, so you should be prepared for it.
You would spend much time in the basements or cellars with small dead animals on your way.
It can be both at a residential or commercial property.
You can also be called up to maintain the plumbing at a restaurant.
You can see things there that might turn you off from eating out again.
So, you should be prepared for the mess.
The plumber's work may take you to sewage, or get you soaking in gray water.
It won't happen necessarily, but you should be prepared for that.
With more experience, the work will get better.
A higher qualification lets you choose what type of work you do.
So you can work only on the installation of the piping in new structures.
The Work of Electrician
Only 10% of electricians choose to run their own business.
There are not so many highly-qualified experts in the market.
The scope of work is extensive, so there's always a need for highly-qualified electricians.
New electricians can be tasked with drilling and digging a lot of holes.
With this job, you should be highly organized and neat.
You may find yourself working in the attic a lot, so the hot temperatures can be involved.
Electricians deal a lot with wiring, circuits, and clamps.
All of these requires you to be extremely cautious.
You should be particularly careful when dealing with high and dangerous voltage.
Sometimes, you may have to handle circuits when the power is on.
It can be very dangerous and challenging.
You need to follow the Electrical Code strictly and ensure safe and efficient operation of the buildings.
The requirements of the process are stricter than in the plumbing area.
There, you can shift away from the rules a bit as long as the work is done.
Just like with all of these professions, an electrician can be on-call at the odd hours.
The working day can become long, and you may have to work on the weekends.
If you get hired for a construction project, the schedule can be more stable on a 9 to 5 Monday through Friday basis.
In the construction, you would have to focus more on the design and installation of the electrical systems.
The Work of HVAC Technician
Because of the rapid growth of the HVAC industry, many electricians and plumbers are looking into switching to HVAC.
New technologies appear in the industry every day, and there is a lot to learn and explore.
HVAC technicians widely launch their own businesses.
Others choose to work for contractors.
They can work on residential sites repairing or maintaining the HVAC systems.
You can also be hired by a particular company (supermarkets or hospitals, for example) and work only in one building.
If you are involved in maintenance, the work can be more seasonal.
In the fall and spring, you will have less work than in the summer and winter months.
For the most part, you will be on call, so the job can get overwhelming.
As an HVAC technician, you can't always predict what you will be working on exactly.
The scope of work can vary greatly.
If you become a contractor, you can hire a team.
In this case, you can take weekends off, but only after you establish your business well.
It's all about how you manage it, so for some time, you may have to work hard before you can relieve your schedule.
As an HVAC tech, you are required to know some electrical and plumbing aspects.
This will put you in a combination of work environments especially if you work in an industrial sector.
You can deal with ducts repairing, circuits and gas.
You may also have to work under the extreme temperatures.
You can end up in the attic, cellar, crawl floor, and in the roof.
Salary and Career Growth
The career prospects for all three professions look very promising for the next ten years.
The job opportunities for electricians and HVAC techs are expected to grow by 14%.
The plumbing area is predicted to have 11.5% more job opportunities.
There are some of the economic and opportunity factors you should pay attention to.
Average Annual Payment
The highest salary is in the electrical field coming up to $51,000 of annual median salary.
In plumbing, you can expect to make as much as $50,000, while the HVAC techs can earn about $45,000 per year.
These numbers are a national median salary.
Depending on your location and the type of work you choose, the numbers can range greatly.
The numbers change regularly.
However, there is low competition among electricians, so they are in high demand.
It means that their salary remains the highest.
Job Opportunities
As mentioned, there is a higher demand for electricians than for plumbers and HVAC techs across the US.
About 600 thousand electricians are currently employed in the States.
The job opportunities growth rate is estimated to be 14% between 2014 and 2024.
The plumbers' employment rate is increasing slower than HVAC techs and electricians.
Fewer HVAC technicians are employed in the country than the plumbers and electricians.
There are 250 thousand HVAC techs registered in the country.
But the growth rate is high and almost equals the electrical area.
Job Satisfaction
Plumbers seem to become dissatisfied with their jobs quicker than the other two trades.
They also seem to be distressed about their salary more giving their scope of work and effort.
Electricians are satisfied with their work more.
The job satisfaction level among HVAC techs is the highest, even with the lowest payment.
Noteworthy, the median hourly rate of the three professions differs very slightly.
This can explain why the HVAC technicians are satisfied with their job the most.
These numbers are relative, and depending on the changes in the job market and other factors, they can also change.
Our Opinion
Given our specialty, you may expect to hear an opinion towards the HVAC industry.
But we want to point out the positive aspects of each trade, as all of these professions are needed.
Becoming an electrician will make you have to choose one professional path and develop specifically in this direction.
By picking just one specialization, you'll have to grow fast.
The profession isn't messy, but it can be physically dangerous when dealing with live circuits is involved.
Earning a certification is quite long and difficult.
Your knowledge base should be wide.
The risk to yourself and the buildings you work on can be involved.
The plumber's job is messy and dirty.
All three professions imply on-call work.
But the plumbers can be called up more often.
The problems with toilets or drains can appear far more often than electrical or HVAC issues.
While those who like to work on their own might appreciate the flexibility of the work, it can become hard and overwhelming.
Those who enroll in the HVAC industry will face a lot of learning and on-call work at odd hours.
You should also expect to receive those calls under bad weather conditions.
However, in HVAC you can obtain a license faster than with the other two professions.
In some states, the HVAC license isn't required, but the EPA certification is a must nationwide.
Although, with that, having relevant experience will help you start a career in the area.
Also, as stated, some of the duties can overlap.
Therefore, if you have a plumbing or electrical expertise, you can enroll in the HVAC industry.
At the same time, you can still keep your current job while exploring the opportunities for HVAC.
It's true that the median salary of an HVAC tech is lower than in other areas.
However, as a contractor, you can get a better-earning potential depending on how you manage your business.
Conclusion
In summary, all three professions are in demand on the market.
You should rely on your mindset, skills, and expectations to make a career choice in these areas.
Building codes are becoming stricter, increasing the demand for qualified and committed experts.
Technology develops and changes, but these three areas are the core of our comfortable lives.