Sponsored Listings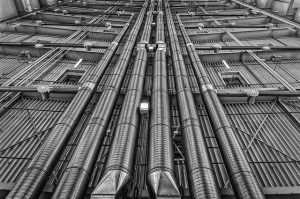 Sometimes it feels like we have an extremely busy schedule and not enough hours a day for everything.
Under such conditions, attending night or day school to get HVAC certification might seem like it would take up all the time.
And it's so hard to find any and keep your work at the same level.
Luckily, now there is an alternative.
You can take online courses and study from the comfort of your home managing your time efficiently.
Sometimes, even exams can be passed online.
Read on to get details on getting an HVAC certification online.
Sponsored Listings
Terms Used in the Article
In this article, the word "certification" is used mainly in the meaning of getting a certificate at the end of a course.
It can be equivalent to a degree or diploma.
However, some other uses of it are different and can be confusing.
The technicians aren't usually required to attend a vocational school or get an HVAC diploma.
A trade school is a good option to get HVAC training though.
But online classes and HVAC certifications are also available.
You can receive it getting practical experience and passing the examinations.
At the end of such courses, students usually receive a diploma or a certificate.
Sometimes, the term "certification" can also refer to the state requirements.
Getting certified in a state means you are getting a license to work as an HVAC technician there.
You will be eligible to perform installation, repair, and maintenance work.
A diploma from a trade or vocational school is not the same.
It certifies your understanding and knowledge of the topics you studied.
Apart from a trade school diploma, there are national certifications, e.g., HVAC Excellence or EPA Certification.
The second one is mandatory for everyone working in the HVAC industry in the US.
It certifies that you are eligible and trained to work safely with refrigerants.
HVAC Excellence is a certification that proves your knowledge in a certain HVAC area.
Online Courses Advantages
There are countless benefits to online courses.
While learning online, you can incorporate your study into your lifestyle instead of adjusting to a school schedule.
It may seem that studying on your own is difficult, but you can use multiple resources and chat rooms for support.
More than three million students are studying online, so you won't be alone.
In your online classroom, you can contact your instructors via email or chat if you have questions on the go.
The costs of online education are usually lower than studying at school.
Besides, you can keep your working schedule as it is.
Also, learning at home, you can preserve your comfort and work how it is convenient for you.
Things You Can't Do Online
In some cases, you can't pursue a degree, certification, or license online.
In the majority of states, an apprenticeship program is required for a trained worker or master level license.
A good understanding of HVAC theory and processes requires practical experience.
Most often a notarized resume and proof of hours of work as an apprentice are required in the states where you should have a license.
The examination process isn't also available online.
It is held at a test site for state licensing.
With some online courses, HVAC students can get daytime workshop hours to practice the main concepts.
It is essential to have some time in the shop.
But if you study HVAC, it shouldn't be a big problem for you since most likely you enjoy working with your hands.
You can still work on the theoretical part online at home.
Things You Can Do Online
Although there are some limitations, there are still a lot of aspects you can handle online for your HVAC certification or degree.
Most of the online courses have the accreditation of the Accrediting Commission of the Distance Education and Training Council (DETC).
In the states that require a license, you usually need to have a particular number of classroom hours.
The hours count both during the apprenticeship or after becoming a master.
For this instance, most states have a list of approved online courses.
It is important that you carefully review whether your program is suited for obtaining a license.
However, other unauthorized courses you may take will surely be of value for you knowledge-wise.
At HVAC schools you will get study guides, relevant manuals, tutorials, and other learning materials to build a foundation.
You can study the materials at your own pace.
Depending on your schedule and preferences, you can work on it part-time or full-time.
You should find the right combination of online training, practical training, and experience.
HVAC students usually pursue a career in the following areas:
Air Conditioning technology.
Refrigeration technology.
Refrigerants.
Commercial refrigeration and heating systems.
Automatic and electronic control systems.
And more.
Some certifications, such as NATE, can be obtained through accredited online programs.
EPA Type 1 certification also can be done online, and some programs even include it as a part of training.
Certificates and Diplomas
There are numerous trade schools, online programs, colleges, and other HVAC-related courses.
You need to choose those that suit your career expectations and perspectives the best.
The programs should be accredited, and at least some part of them are available online.
Here are some programs you can undertake:
Diploma/Certificate Program (9-10 months).
A nine- to ten-months diploma program is available in various community colleges or trade schools.
They can give you a good basis of theoretical and practical knowledge for a kick-start of your career.
Most of the theoretical work can be done online.
However, the work in a shop is also a part of the program.
But it can count as apprenticeship hours.
HVAC Associate's Degree (2 years).
An Associate's degree ends with a diploma.
You will get fundamental knowledge and basics of HVAC.
To enroll for the degree, you need only a high school diploma or GED.
It can be a good start to the career and help you compete with other entry-level technicians.
There are online courses available for the Associate's degree.
Upon completing this program you can work as an HVAC mechanic or technician, AC tech, or even sales consultant.
HVAC Bachelor's Degree (4 years).
If you are looking for a more extended HVAC program, you can enroll for HVAC bachelor's degree.
It will give you a diploma in applied science.
The program lasts for four years.
The graduates can work as HVAC technicians in different areas as well as hold supervisory positions.
HVAC bachelor's program suits well for those who are interested in project management work.
With this degree, you can work as an HVAC project manager, supervisor, technician, etc.
HVAC Engineering Program (4 years).
If you are looking for more advanced industry, you can focus on engineering.
Bachelor's degree programs don't include specific HVAC engineering training.
The most appropriate education choice to qualify for an HVAC engineer would be a degree in mechanical engineering.
Such programs also take four years.
Upon completing you will know how to work with refrigeration, heating systems, thermodynamics.
With this degree, you have extended career opportunities related to mechanical engineering.
However, they are specific enough to prepare you for the work with HVAC systems.
After undertaking such a program, you can work as a mechanical engineer, design engineer, inspector, etc.
A program you choose must be accredited by HVAC Excellence or locally accredited.
In this case, you can be sure that your education will meet the industry requirements.
EPA Section 608 Certification
EPA Section 608 is a mandatory certification and can be done online.
As a test done online or in a testing center, it is a publicly open examination.
This refers to the Type 1 certification.
Certification Type 2 and 3 are done in the form of the proctored exam.
The EPA Type 1 test can be passed online or at a testing site.
It will make you eligible to work with smaller appliances using refrigerants.
They are 5 lbs or less-refrigerant apparatuses.
This certification is required by federal law nationwide.
You won't need to retake it after some time as it doesn't have an expiration date.
If you go for Type 1 online, you will be expected to score higher.
However, it's still an open examination.
It includes the main section and a particular Type 1 examination.
Although, if later you pursue Type 2 or 3 exams, you will have to pass the main section again.
The Type 2 and 3 examinations focus on high-pressure and low-pressure appliances accordingly.
The examination is a proctored test.
However, there's a way to take it online in a proctored environment, by webcam.
Zack Academy does it that way.
Their program is available on their website for your review.
HVAC Excellence and NATE
HVAC Excellence is a certification program that represents the criteria of excellence in the HVAC field.
Their certificates are good enough for employment.
The certification helps technicians demonstrate their know-how in the industry.
It is awarded at the end of a series of examinations.
NATE (North American Technician Excellence) certifications focus on the expert's practical knowledge in HVACR.
HVAC area includes a wide range of topics.
These examinations confirm the tech's knowledge and are certified proof provided for potential employers and customers.
NATE certifications cover a range of specialties, including heat pumps, oil and gas heating, hydronic gags and oil (only for service), Senior HVAC Efficiency Analyst, and more.
HVAC Excellence and NATE focus on practical knowledge in the HVAC area.
Unlike other technical examinations, they prioritize the situations HVAC techs face daily.
Besides your coursework and experience, you can use a variety of available online resources to prepare for these certifications.
State License
The certifications mentioned above don't meet the legal requirements to work in a particular state.
Some states and regions require a local license for the techs to work in the state.
Testing is also involved.
To obtain such a license, you need to have previous fieldwork.
In some cases, online or classroom courses can be counted as part of fieldwork.
Conclusions
Undertaking online education in the HVAC industry can be beneficial financially and emotionally.
You are in control of your education process and obtaining certification and license.
You can maintain your schedule, choose classes, and incorporate it into your lifestyle.
If you are already trained in HVAC, you can take additional certification such as EPA and NATE.
You can expand your knowledge online and work towards a higher salary.