The tranquil city of Little Rock in Arkansas has a growing professional community of HVAC technicians.
These professionals can earn an average hourly salary base range of $10.30 to $23.59 per Payscale.
So if you want to enter this industry, you must learn the trade.
To do that, consider enrolling in an approved HVAC program, some of which we have featured below.
Sponsored Listings
HVAC Techs annual average salary in Arkansas is $41,880 - ABOVE U.S. AVERAGE!
University of Arkansas - Pulaski Technical College

About the School
University of Arkansas – Pulaski Technical College is a student-centric institution that works to connect the talent, knowledge, and resources needed to promote student success and economic growth in central Arkansas and beyond.
University of Arkansas – Pulaski Technical College provides access to high-quality education that promotes student learning and enables individuals to develop to their fullest potential.
UA-PTC strives for continual improvement and innovation to realize the highest potential of students, employees, and the College.
Courses Offered
UA-PTC wants students to have access to quality education so they can develop their full potential.
The UA-PTC Heating, Ventilation, Air Conditioning, and Refrigeration (HVACR) program is an Associate of Applied Science degree, a Technical Certificate and a Certificate of Proficiency program.
This program integrates technical and general education courses.
These classes allow the student to develop a wide range of technical and academic knowledge and skills.
The mission of the UA-PTC HVACR program is to provide the knowledge the student needs, to develop the skills required, to become a valued employee with a bright future in the servicing of all forms of HVACR and to act in a professional manner towards their fellow workers, their employer, and their customers.
Visit School Website

Address: 3000 West Scenic Drive North Little Rock, AR 72118
National Park College
About the School
National Park College is located in Hot Springs, Arkansas, a beautiful resort community of over 35,000 approximately 45 minutes southwest of Little Rock.
The local economy centers on tourism, manufacturing, retirement living, and medical sciences.
Tourism attractions include the thermal waters of the National Park, hiking trails, horse racing at Oaklawn Park, five nearby lakes, outstanding golf courses, and a thriving art community.
The fourth largest community college in the state, National Park College serves approximately 7,500 students per year enrolled in college courses, workforce training, and adult education classes.
Courses Offered
HVAC is composed of heating, ventilation, and air conditioning. HVAC functions control the overall temperature and climate inside of homes, corporate offices, hospitals and other types of buildings.
An HVAC technician is a person that specializes in the installation, repair and maintenance of HVAC systems.
NPC helps address the need for qualified employees in the workforce by offering apprenticeship programs.
The HVAC Apprenticeship program is a 3-year program that provides training for participating companies that need qualified workers in the HVAC industry.
Apprentices must complete 160 classroom hours and 2000 OJT (on the job) training hours each year of program participation.
Their HVAC apprenticeship program will provide…
Students with classroom and hands-on training on real-life situations to better prepare for today's workforce
Companies with a training program so they can have and hire qualified HVAC technicians
Visit School Website

Address: 101 College Drive Hot Springs National Park, Arkansas 71913
Southeast Arkansas College
About the School
Southeast Arkansas College was created by Act 1244 of the 78th General Assembly of the State of Arkansas, which was signed into law by the Governor on April 17, 1991.
SEARK College aims to build a community of lifelong learners committed to becoming the leaders of tomorrow.
SEARK College commits to its vision statement: "Empowering students, changing lives."
That's why their AC and Refrigeration Technology program aims to provide students with the comprehensive skills they need for employment.
Courses Offered
SEARK offers an HVAC/R program that will prepare Air Conditioning and Refrigeration Mechanics and Apprentices for entry-level employment in a wide range of construction, maintenance and service positions in business and industry.
Graduates are eligible to take the test offered by the Air Conditioning and Refrigeration Institute to be certified as an Entry-Level HVAC/R Technician.
Safety is stressed in all aspects of this program.
Visit School Website

Address: 1900 Hazel Street, Pine Bluff, AR 71603
University of Arkansas Community College at Morrilton
About the School
UACCM commits itself to providing excellence in both the learning and personal enrichment of students.
As a comprehensive community college, UACCM seeks to provide opportunities that enable its students to make significant societal contributions.
The Community College offers courses, certificate programs, and associate degree programs that provide students with the general education and technical skills needed to be successful in the workplace, for transfer to four-year institutions, or for lifelong learning.
Courses Offered
And so, their HVAC programs will have courses that will equip students for the residential, commercial, and industrial HVAC work.
The Air Conditioning, Heating, and Refrigeration Technology (HVAC) program includes courses in electricity, motors, residential and commercial refrigeration, heating, and air conditioning.
Students will learn to install, service, and repair air conditioning and heating units in homes, schools, and commercial and industrial businesses.
Air conditioning, heating, and refrigeration systems consist of many mechanical, electrical, and electronic components, including motors, compressors, pumps, fans, ducts, pipes, thermostats, and switches.
HVAC graduates will be able to maintain, diagnose, and correct problems throughout an entire system, including modern industry challenges such as energy audits, green principles, and energy efficiency.
Students follow blueprints, design specifications, and manufacturer's instructions to install motors, compressors, condensing units, evaporators, piping, and other components all while using the newest technology.
Students receive extensive hands-on experience, including servicing more than 100 units on campus.
The school offers the following programs:
AAS in HVAC/R Technology
Technical Certificate in HVAC/R Technology
Certificate of Proficiency in HVAC/R Technology
Visit School Website

Address: 1537 University Blvd., Morrilton, AR 72110
Arkansas Tech University - Ozark Campus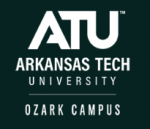 About the School
The Ozark Campus offers the highest quality technical education and training in Western Arkansas.
Its Associate of Applied Science degrees and technical certificate programs provide students with the knowledge and skills that result in well-paying, challenging careers.
The talented faculty, friendly and knowledgeable staff, short length of programs and low cost of attendance make the Ozark Campus a top choice in its service area.
Courses Offered
The air conditioning and refrigeration industry offers a bright future for people who wish to prepare for entry into this profession.
This field includes, sales, installation, maintenance, service and operation of equipment not only in residential settings, but also in commerce and industry.
The need for air conditioning and refrigeration service technicians will continue to expand with the growth of computer applications into the industrial fields.
This program also places emphasis on green technology initiatives and incorporates an emphasis on PV arrays and wind turbines.
Students pursuing the Associate of Applied Science degree will be better prepared to pursue positions that will lead to promotion and management positions in the facilities fields.
So their HVAC programs are designed to…
Prepare students for entry-level positions in the industry
Give students the resources to climb up the career ladder (e.g., management positions)
The school offers the following programs:
AAS in AC and Refrigeration Technology
Technical Certificate in AC and Refrigeration Technology
Visit School Website

Address: 1700 Helberg Lane Ozark, AR 72949
---
HVAC Schools by City in Arkansas
See all schools in Arkansas >