Atlanta is one of Georgia's most stable economies, resulting in plenty of job opportunities for HVAC technicians.
Here, these technicians can earn an average hourly salary base of $24.94 per Indeed.
So if you want to enter this industry and get paid well, you must first learn the HVAC trade.
You can do so by enrolling in an approved HVAC program from one of the schools featured below.
Sponsored Listings
HVAC Techs annual average salary in Georgia is $49,110 - ABOVE U.S. AVERAGE!
Mechanical Trades Institute - Main Campus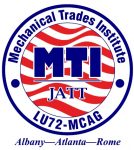 About the School
The Mechanical Trades Institute –Local 72 Training Center (MTI-72) program has been successfully training apprentices to be Pipefitters, Plumbers, and HVACR Service Technicians since 1936 and became an official Department of Labor registered apprenticeship program in 1942.
Thanks to sponsorships from the Mechanical Contractors Association of Georgia and the Plumbers, Pipefitters & Service Technicians Local Union No 72, tuition is free for all students.
Your education at the MTI-72 Training Center will set you on the path to a lucrative career.
Mechanical Trades Institute is continually growing–keeping up with the times and making sure that students have the best tools and technology.
Utilizing a proven mix of hands-on work, classroom time, and online learning this apprenticeship program will give you the knowledge and experience needed to succeed.
Courses Offered
UA Local 72 has Service Technicians qualified to service any size or type of HVACR system.
Its technicians are highly trained to not only repair systems, but to recognize potential failures or maintenance issues before they become a major problem.
The systems they service everyday ranging from central energy plants, large buildings, factories with chillers that produce thousands of tons of cooling, specialized computer rooms, cascade type low temperature systems used in cryogenic facilities or the latest DDC energy management control systems are critical for clients to better serve their customers.
Local 72 Technicians have had thousands of hours of classroom, on the job and continuing education training.
It has the latest and most advanced safety techniques available including OSHA, Arc Flash, Rigging and environmental training related to the handling and use of all types of refrigerants, lubricants and chemicals used in the HVACR industry.
Their HVAC apprenticeship program offers on-the-job and continuing education training on the latest and advanced trade skills and techniques.
Upon completion, apprentices become highly qualified technicians capable of providing HVAC services.
Visit School Website

Address: 6120 Purdue Drive SW Atlanta, GA 30336
Interactive College of Technology - Main Campus

About the School
Interactive College of Technology is ranked in the top 20 best value in college and offer online and hands-on learning options to meet your needs.
Unlike other colleges, students and graduates of ICT never have to feel left alone when it comes to finding employment and building the foundations of careers.
Its instructors and counselors make extraordinary efforts to ensure that students are given the skills and resources they need to build careers that meet their needs and desires as well as instilling character-building experience.
Courses Offered
ICT makes the extra effort to ensure students are given the help they need to build their careers.
The HVAC/R technician training program at ICT offers training in all phases of repair and maintenance of heating, ventilation, air conditioning, and refrigeration systems.
The HVAC/R technician program also includes the Environmental Protection Agency (EPA) Certifications in the management of refrigerants and North American Technicians Excellence (NATE) Certifications, designed to recognize truly excellent and capable HVAC/R professionals.
Graduation will help you qualify for a wide range of technician, support, repair, and maintenance positions in the HVAC/R and refrigeration field.
Their HVAC program provides training on all phases of the HVAC trade, including preparation for the professional certification exams.
The HVAC/R technician training program at ICT includes an externship.
This HVAC/R program places you at a partnering company for 135 hours.
This extensive field experience gives the student the opportunity to put their new skills to work in a career environment and learn firsthand and work next to experienced HVAC experts.
In addition, they have Lifetime Career Placement Support where students can receive job assistance in the future.
Visit School Website

Address: 5303 New Peachtree Road Chamblee, GA 30341
Lincoln Tech - Marietta Campus
About the School
Lincoln Tech's mission is to provide superior education and training to its students for in-demand careers in a supportive, accessible learning environment, transforming student's lives and adding value to their communities.
The Technical College works tirelessly to help you succeed on the road to new career opportunities.
This promise drives its day-to-day activities and allows it to continue shaping the nation's workforce for Careers That Build America.
Lincoln Tech is here to bring together employers seeking outstanding trained professionals with candidates who have shown passion for their fields and commitment in the classroom.
Courses Offered
LT commits to giving students the best professional development and competencies for the real world.
Heating, Ventilation and Air Conditioning (HVAC) training at Lincoln Tech's Marietta campus – serving the Atlanta area for more than 15 years – gives you the chance to build career skills that get you out from behind a desk.
HVAC training can lead to excellent opportunities to be "in the field" every day, and even be your own boss.
Lincoln Tech's career training program is designed to help you do just that.
The Marietta campus is equipped with industry standard tools and machines to practice HVAC skills, including Hampden Trainers and an Energy Audit Training House.
Graduates also have the opportunity to apply for the specialized Hussmann partnership program, which could lead to greater career possibilities.
Hands-on HVAC training at Lincoln Tech includes classes related to:
Climate control systems
Electricity
Basic refrigeration systems
Design and layout of air conditioning systems
Commercial refrigeration control and design
Warm air heating
Energy efficiency
The campus features an on-site energy auditing trainer, to give you hands-on instruction in testing and troubleshooting for energy efficiency.
Their Diploma in AC, Refrigeration, and Heating Technology aims to…
Introduce students to green technology applied to HVAC systems
Prepare students for the workforce by equipping them with the fundamentals
Let students understand the industry through the experiences of instructors
Visit School Website

Address: 2359 Windy Hill Road Marietta, GA 30067
Fortis College - Smyrna Campus
About the School
Fortis is a post-secondary network of colleges and institutes that engages students in powerful learning and training experiences designed to develop professional skills and lifelong growth.
It offers career-based training, diploma and degree-granting programs at 29 campuses in 14 states.
Fortis College and Fortis Institute campuses offers programs designed to prepare students for careers in nursing, healthcare, business and the skilled trades through intentionally designed curricula taught by experienced faculty and incorporating opportunities for hands-on real-world skill development.
Fortis also offers online learning platforms for many of its programs.
Each Fortis campus is accredited by a nationally recognized accrediting body.
Program offerings and accreditations vary by campus.
Courses Offered
Fortis believes in empowering people.
For a career path that rewards hard work and dedication, look no further than HVAC.
Successful HVAC technicians respond to the needs of their community by keeping buildings well-ventilated and comfortable.
Each day as an HVAC technician provides fresh challenges and opportunities to make a difference.
From fixing a broken air conditioner unit to installing a new heating system, HVAC technicians are on the front lines of comfort and safety.
That's why their HVAC program aims to prepare students for entry-level employment as HVAC technicians.
Fortis campuses help dedicated students lay the foundation for a future career in the heating, ventilation, air conditioning and refrigeration (HVAC-R) field.
Its HVAC programs go beyond the classroom and provide practical training in the development, selection, operation and testing of ventilation and air conditioning equipment.
Here, students will obtain the necessary skills to have a successful career in the industry.
Visit School Website

Address: 2140 South Cobb Drive Smyrna, GA 30080
UEI College - Morrow Campus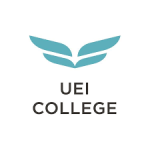 About the School
At UEI, you can get career training and skills that will help you create a future you can be proud of.
UEI believes that every student should have the opportunity to have a better future and will work with you to help make that happen.
Its supportive faculty and staff are committed to helping you reaching your goals, even when challenges arise.
From help with finding the right career path to finding a potential employer after you graduate, UEI is committed to being your partner in success.
Courses Offered
UEI's Heating, Ventilation, and Air Conditioning (HVAC) Technician Training Program provides students with the knowledge, skills, and hands-on training needed to begin an entry-level HVAC technician career.
UEI's HVAC classes teach students how to install, service, maintain, troubleshoot, and repair HVAC and refrigeration systems.
The course also prepares students for two important certifications in the HVAC Field.
The two certifications are the EPA Section 608 Certification for stationary air conditioning and refrigeration and the R-410A Certification.
If you enjoy working with your hands on current technologies, you should consider enrolling in UEI's HVAC Training Program.
The program is designed to provide students with the foundational skills required for a rewarding career as an HVAC Technician.
The great thing about UEI's HVAC Training Program and Course is that it can be completed, and you can earn your diploma in as few as 10 months.
Some employers tend to prefer students with a post-secondary education over students who do not have such an education because HVAC systems have become so complex that students need an education that teaches them how to install, maintain, and repair such systems.
So, if you're interested in becoming an HVAC technician, consider enrolling in the program today!
At UEI, they understand that students often have hectic schedules.
For this reason, UEI has created hybrid programs that blend both on-site classes with online learning, making it more convenient than ever before for individuals to become HVAC Technicians.
Visit School Website

Address: 1564 Southlake Pkwy. Morrow, GA 30260
---
HVAC Schools by City in Georgia
See all schools in Georgia >