Topeka, Kansas's capital city, has seen the continuous growth of its HVAC industry.
Currently, its HVAC technicians enjoy an average hourly salary base range of $14.50 to $26.50 per Payscale.
So if you want to earn that much, you must enroll in an approved HVAC program to learn the trade.
Below, you'll find a few HVAC schools in this city that you can check out.
Sponsored Listings
HVAC Techs annual average salary in Kansas is $51,270 - ABOVE U.S. AVERAGE!
Washburn Institute of Technology
About the School
Washburn Institute of Technology, known as Washburn Tech, is a nationally recognized innovator in career and technical education.
Its unique affiliation with Washburn University gives you the opportunity to start with technical courses and continue to advanced degrees while preparing for today's careers.
Washburn Tech works closely with business and industry to ensure all courses are high-quality and provide you with the high-demand, real-world skills that lead to good jobs and career placement.
Its continuing education courses are available in-person and online depending on the subject matter.
It can design specialized training to fit your schedule and busy lifestyle.
Courses Offered
WIT lets students receive the appropriate education and training to prepare for today's careers.
Their HVAC program is designed to challenge students to the real-life work of the industry.
The program operates out of the Midwest Training Center (MTC), a state-of-the-art facility on our main campus.
Through partnerships with Trane USA, Snap-On Tools, and the National Coalition of Certification Centers, we train you in the areas of electricity, heating, residential air conditioning, refrigeration, sheet metal fabrication, direct digital controls (DDC) and commercial HVAC applications.
You can leave with industry credentialing in the areas of refrigerant handling safety, tool usage and control systems.
Foundational skills and principles learned in this program prepare you to work in the commercial and residential HVAC market place.
Full-day students can complete the program in two semesters while half-day students can complete in four semesters.
Upon completion, you will earn a 43 credit hour technical certificate and be eligible to complete an associate degree or more advanced degrees at Washburn University.
Also, the program includes preparation for professional certification exams like EPA certification.
Visit School Website

Address: 5724 SW. Huntoon Topeka, KS 66604
Manhattan Area Technical College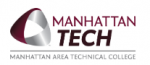 About the School
Manhattan Area Technical College provides high quality technical, general, and adult education to prepare individuals to pursue technologically advanced careers and lead productive lives in a dynamic and diverse global environment.
As a leader in technical education, Manhattan Area Technical College enhances student-centered learning and service to business, industry, and community members.
MATC offers associate of applied science degrees and technical certificates upon completion of programs and courses in technical fields to meet student, employer, and community needs.
Courses Offered
MATC provides students with the best educational and career opportunities for their future.
Their HVAC program prepares students for entry-level employment in various positions in the industry.
The Air Conditioning and Refrigeration program at Manhattan Tech is designed to prepare mechanics and apprentices for entry-level employment in a wide range of construction, maintenance, and service positions in business and industry.
The program prepares students to install, service, and repair refrigeration and air conditioning systems.
The program provides instruction in:
Residential air conditioning
Commercial air conditioning
Heating systems
Commercial refrigeration
Students will be E.P.A. (Environmental Protection Agency) 608 and OSHA 10 certified.
This program aligns with the Kansas Board of Regents curriculum.
The school offers the following programs:
AAS in Air Conditioning and Refrigeration
Certificate in Air Conditioning and Refrigeration
Visit School Website

Address: 3136 Dickens Avenue Manhattan, KS 66503
Kansas City Kansas Community College

About the School
The mission of Kansas Community College is to inspire individuals and enrich the community one student at a time.
It aims to be a national leader in academic excellence and partner of choice in the communities it serves.
KCC is an educational environment that encourages a strong commitment to high academic standards that sustain and advances excellence in learning.
It encourages challenging, innovative, and varied programs, teaching methods, and delivery systems to enhance student intellectual and social development to the fullest extent possible.
Furthermore, it stresses the attitudes, behaviors, responsibilities, and skills required for effective learning and citizenship in a multicultural democracy.
Courses Offered
KCKCC encourages and inspires students to reach their full potential to achieve career success.
Their HVAC program will focus on training students on the trade fundamentals to prepare them for industry work.
HVAC training is comprised of heating, ventilation, air conditioning and refrigeration.
Fundamentals are emphasized, along with specific studies in central and room systems.
Silver brazing, electrical and mechanical troubleshooting, and sheet metal techniques are also practiced.
Also, the program will prepare them for EPA and R-401A refrigerant certification exams.
Visit School Website

Address: 7250 State Ave. Kansas City, KS 66112
Johnson County Community College
About the School
JCCC has a national reputation for educational excellence.
JCCC focuses on student success.
Small class sizes, experienced, caring faculty, affordable tuition rates and on-campus student resources ensure you receive the education and training you need to launch your career.
Its thriving campus is full of culture and activities.
You, your friends and your family can connect and enjoy a lifetime of learning through its academic programs, workforce development, continuing education courses, and community events.
JCCC is so much more than college classes, it is a community.
Courses Offered
JCCC offers a lifetime of learning so students can smoothly launch their chosen careers.
Their HVAC program focuses on relevant and useful skills to get students job-ready as fast as possible.
As an HVAC student, you will start by studying the HVAC basics, while gaining hands-on experience in the lab.
Throughout the coursework, you will learn:
Electrical and heating fundamentals
Electrical systems
HVAC installation and start-up procedures
Industrial safety and OSHA regulations
Plumbing fundamentals
Refrigerant management
Cooling systems
Customer service skills
The school offers the following programs:
AAS in HVAC Technology
Certificate in HVAC Technology
Visit School Website

Address: 12345 College Blvd. Overland Park, KS 66210
---
HVAC Schools by City in Kansas
See all schools in Kansas >