San Diego, CA offers approved HVAC programs for aspiring HVAC technicians.
Here, you can receive trade education and training that will prepare you for the workforce.
Then, upon completion, you'll become a qualified HVAC technician in the industry, earning an average hourly salary base of $29.49 (Indeed).
Listed below are some of the top HVAC schools in this city.
Sponsored Listings
HVAC Techs annual average salary in California is $61,670 - ABOVE U.S. AVERAGE!
San Diego City College

About the School
San Diego City College has as its highest priority student learning and achievement.
The college provides lower division and general education courses that lead to certificates, associate degrees or transfer to a four-year college or university.
It offers career technical education programs that meet
specific industry needs, upgrade the employment skills of students and fulfill licensing requirements of the state of California as well as contribute to the economic development of the region.
It provides basic skills instruction to assist all students in meeting their educational goals and essential student support services for all students.
Courses Offered
SDCC ensures that its students receive the highest priority in learning and achievement.
The Air Conditioning, Refrigeration, and Environmental Control Technology (AIRE) Program offers a comprehensive study of Heating – Ventilation – Air Conditioning & Refrigeration (HVAC/R) systems.
The AIRE Program courses of study include new and emerging technologies relating to climate controlled environments for homes, buildings and conditioned spaces, with topics ranging from residential refrigeration to commercial air conditioning and industrial freezing systems.
It provides superior hands-on information needed to successfully maintain and troubleshoot today's complex heating, air conditioning, and refrigeration systems.
Particular focus is directed toward energy efficiency, sustainability, and the integration of conventional systems with alternative energy and Green Technology.
This program fosters a solid foundation and understanding of environmental problems and their solutions, and displays a depth and detail of theory, diagnostics, and repair procedures.
SDCC's HVAC program trains students comprehensively in the HVAC/R systems.
Only then can they build a solid foundation that can help with their job placement and advancement in the field.
Visit School Website

Address: 1313 Park Boulevard San Diego, CA 92101-4787
UEI College - Chula Vista Campus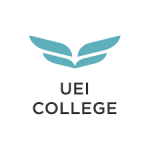 About the School
At UEI, you can get career training and skills that will help you create a future you can be proud of.
UEI believes that every student should have the opportunity to have a better future and will work with you to help make that happen.
Its supportive faculty and staff are committed to helping you reaching your goals, even when challenges arise.
From help with finding the right career path to finding a potential employer after you graduate, UEI is committed to being your partner in success.
Courses Offered
UEI's Heating, Ventilation, and Air Conditioning (HVAC) Technician Training Program provides students with the knowledge, skills, and hands-on training needed to begin an entry-level HVAC technician career.
UEI's HVAC classes teach students how to install, service, maintain, troubleshoot, and repair HVAC and refrigeration systems.
The course also prepares students for two important certifications in the HVAC Field.
The two certifications are the EPA Section 608 Certification for stationary air conditioning and refrigeration and the R-410A Certification.
If you enjoy working with your hands on current technologies, you should consider enrolling in UEI's HVAC Training Program.
The program is designed to provide students with the foundational skills required for a rewarding career as an HVAC Technician.
The great thing about UEI's HVAC Training Program and Course is that it can be completed, and you can earn your diploma in as few as 10 months.
Some employers tend to prefer students with a post-secondary education over students who do not have such an education because HVAC systems have become so complex that students need an education that teaches them how to install, maintain, and repair such systems.
So, if you're interested in becoming an HVAC technician, consider enrolling in the program today!
UEI understands that its students often have hectic schedules.
For this reason, it has created hybrid programs that blend both on-site classes with online learning, making it more convenient than ever before for individuals to become HVAC Technicians.
Visit School Website

Address: 1261 3rd Avenue Suite A Chula Vista, CA 91911
Summit College - El Cajon Campus
About the School
Since its founding in 1991, Summit College has provided affordable, quality education to students seeking new paths.
Summit College began with one campus in Colton, California, which was quickly approved by the Bureau of Private Post Education.
Then, just three years later, in 1994, it received national accreditation from the Accrediting Council for Continuing Education and Training (or ACCET).
Its three accredited locations give you more options as you seek to elevate your career.
Courses Offered
Becoming an HVAC technician means you could have great long-term job prospects and a career you can feel good about that has you interacting with all kinds of people from all walks of life.
And Summit College can help you get the training and skills you need.
The College has been doing it since 1991 — it's practically in its DNA.
Summit College believes they are in this together with every student; you'll get all the support and encouragement you need every step of the way, even after graduation.
Visit School Website

Address: 411 N. Marshall Ave. El Cajon, CA 92020
---
HVAC Schools by City in California
See all schools in California >